BMW Motorcycle Electrical parts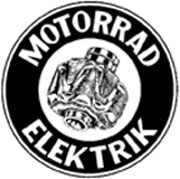 R50 R60 R65 R75 R80 R90 R100 Moto Guzzi Starter
---
The Latest Updates (4/22/10)
Please Note: this page will be history soon. All links will be integrated into the respective areas.
Motorrad Official Cap. Wear one, Be one
DIY LED roll your own LED at a reasonable price
ALPHA Ignition All-New "Bean Can" for 1981 through 1995 Airhead Twins!
Omega FAQ - What you need to know!
Omega installation guide
Omega 450! Upgraded, Hardened and Power NOW Every Airhead needs it!
K-bike Plug wires! When did you last changes yours?
Motorrad Elektrik T-Shirts - wear your wiring diagram in style!
New Improved for 2008 Omega diode board for '70-95 Airheads!
New Hardened Alternator Rotor Bolt Tool- simply a must have!
Spark Plug wires 1970-80 Airheads
Generator Light Auxiliary Circuit BMW Airheads '70 -'95
Oil Head Riders rejoice! Plug Wires and Coils at GREAT savings
Moto Guzzi Riders Rejoice! New Starter Available NOW!
ElectroPods LEDs to REALLY light up your brake lights! $24.95
Great Deal non-ABS Oilhead GS LED Tail Light now $50!
NEW! Fantastic cunningly small Charge-X Mini Charger $29.95!
NEWBosch Spark Plug Replacements...Finally. Airhead, K-bike, F650
NEW Bosch Coils For 1970 Through 1980 Models : /5 , /6 , and /7, R90S
New Replacement Starters for Oilhead Boxers: Fits All R1100, 1150, & 850
Alternator UPGRADES for all K Models and Oilhead Boxers
The Super Nippondenso Starter for all /5 & up Airheads






You want the best for your BMW Motorcycle. Motorrad Elektrik has been offering the best in electrical parts for classic and modern BMWs for over 10 years. Be it a full 12 volt conversion for your /2 or better than stock replacement parts for your late model "R" or "K", we've got you covered.
e-mail Motorrad Elektrik World HQ
Need straight answers,technical support or ready to order? Call 256-442-8886
9am-5pm Central Time (US)
---